---
The Biggest Killer of Creativity
---
First, I want to thank Jenny for hosting the Sunday Scribbles Challenge and for opening up her blog space for wee scribblers like me. I hope I can do this awesome blog justice.
---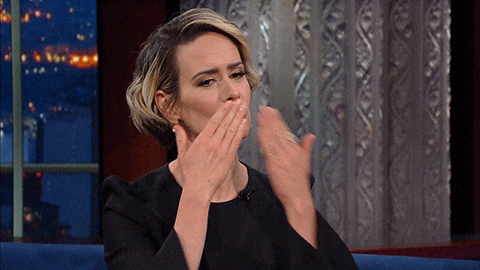 ---
Now, let's talk about creativity – and specifically about what kills it (for the purposes of this post, creativity refers to both the act of literally creating something and to sharing our already-created work with the outside world). As creative types, we need to know what hazards lie ahead so we can avoid them.
Unfortunately, this killer isn't something we can avoid entirely. In fact, it's one we likely face on a daily basis.
I've recently started reading Big Magic by Elizabeth Gilbert. In it, she outlines qualities creative types must have in order to create, including enchantment, trust, and persistence. But the first quality she discusses is courage.
That means not being afraid, because as she says:
---

…when courage dies, creativity dies with it. We all know that fear is a desolate boneyard where our dreams go to desiccate in the hot sun.

---
She goes on to list 27 fears we face as we strive to live more creative lives, including fear of rejection, fear that we don't have enough training, and fear that our work isn't important enough to put out there. The easy advice would be to simply say everyone has fears so either suck it up and create anyway or go do something else.
Here's the thing, though: Fears are real. They aren't silly, irrational things we're taught to ignore (for the most part). Fears keep us alive – we don't run into traffic because of the fear of getting smashed by a MACK truck.
---
---
But fear can also be paralyzing if we let it.
My bestselling novel was *this close* to being shoved under a mattress because of fear. After I got some bad feedback from a critique partner, I knew if I let anyone read it, one of two things would happen: 1. They would hate it and ridicule it mercilessly, or 2. No one would read it at all.
That's right. I was afraid people would read it or not read it.
It took another, much wiser writing partner to talk me back off that ledge. I went on to self-publish the book and it sold twenty thousand copies in its first year.
And it wasn't ridiculed mercilessly.
In her most recent flash fiction challenge post, Charli Mills says this (emphasis mine):
---

It's not that fear itself is so bad. Fear is a warning — proceed with caution; be safe. Entrepreneurs and artists take calculated risks — they strategize to overcome doubt and fear to do or create something new. Fear is best acknowledged, not justified. It's fear justified that skews thinking and actions.

---
Acknowledgement says, "Yes, this is a real fear that I have." Justification says, "And because of it, I will or won't do this." Justification gives fear more credit and weight than it deserves.
I published my novel while carrying the fears that it would be poorly reviewed or not read. My wise writing partner even said, "Yes, those things could happen." We acknowledged those fears and proceeded anyway. And you know what? Those things did happen! It got some bad reviews and I can't get most of my own family to read it (among many others, I'm sure). But it also has lots of good reviews and fans anxiously waiting for the standalone sequel, which is now in revisions.
Fear is part of the creative process. Hell, it's in every freaking step of it. If creativity is the Yin, fear is the Yang.
That doesn't mean fear gets to kill our creativity. In fact, pressing on after acknowledging our fears makes having created and shared our work that much sweeter.
---
What fears do you face when creating? How do you overcome them?
---
Allison Maruska is the author of mystery, suspense, and YA novels, a humor blogger, former teacher, mom, wife, coffee and wine consumer, and owl enthusiast. Find her on her blog, Facebook, Twitter, and Amazon.
---